So, I started training for a new job as a junior sales manager at one of my favorite boutique-style clothing chains. This particular brand is one of the two denim types I consistently buy (the other being Gloria Vanderbilt) either new, or actively hunt for at the thrift shop. I love the fact that they have some very iconic styles of blouses and dresses. However, it's been ten years since I worked boutique-style clothing retail and I've got a lot to learn. So forgive me — this is a busy time, I feel like I'm over my head, and I don't have the energy for long posts.
That being said, I could write about makeup and fashion no matter how fried I feel. I have a crazy, eclectic sense of style. I really love classic silhouettes paired with funky or retro accessories. Polka dots and pearls are must-haves, along with anything with skulls or nerdy-chic motifs. On my days off it's not unusual to see me running around town in a Harry Potter teeshirt and a pair of Target jeggings, with faux-pearl bracelets and a newsboy hat shoved on my head. When I work I wear a pullover dress with big earrings and fun tights. My favorite things in life are leggings and red lipstick.
So, six utterly fabulous finds for summer that are Wendy-tested, Wendy-approved, and part of a geeky-punky lifestyle:
I just picked up a Cotton Flare Dress by New York & Company. I am deeply impressed and will be planning on picking up several more while they're on sale. Sleeveless with bra-friendly style, hits just above the knee, flattering cut for all body types (and believe me, finding a dress that doesn't make my apple-shaped self look six month pregnant is HARD) and it comes in seven different colors. And it had POCKETS. I mean, real pockets where I can fit lipstick, compact and breath mints with room to spare. I get very frustrated by the tiny pockets that reign in women's fashion.  It's a great wear to work or a out-and-about style, and I can accessorize the hell out of it. I'm a size 18 and I fit into their XL's without it feeling tight. Supposedly, this also will come out in sleeved styles around fall and winter, but I can totally see myself wearing the sleeveless version layered in fall and winter.
So what do I wear under my dress? Jockies came out with their Skimmies slip shorts and when I worked at Big Damn Department Store, I got four pairs.  I love them soooo much.  They're seriously
stretchy, they keep my thighs from chaffing when they rub together, they're very breathable and come in two lengths plus three fabrics (wicking, microfiber, and anti-static) to maximize their versatility in your closet. We sold these like hotcakes and I cannot endorse them enough. Keep an eye out in the department stores for buy one get one deals, or at discount stores like Kohl's.
I have a hard time with eyeliner. I am a complete klutz when applying it, I have oily lids that make
eyeshadow primer a necessity rather than a luxury, and I walk everywhere as a function of living in the 'burbs without a car — meaning I sweat even in the dead of winter. I finally found a truly Wendy-proof eyeliner that fits my budget. Folks, let me introduce you to E.L.F. Waterproof Eyeliner Pen. It's literally like a felt-tip pen with waterproof liner and it costs $2. I have tried very expensive department store brands, cheap drug store brands, and premium brands of long-wear liner, and I have to say — for long-wear eyeliner and easy application, this takes the cake, cake platter, and tablecloth. My one regret is that it doesn't come in a huge variety of colors — supposedly you can get a purple and teal/blue, but I can only find black and brown at my local Target. For two bucks it's still an incredible value and a little dab of makeup remover takes it off quite easily.
Speaking of great all-weather makeups, let me tell you that I have found a fantastic medium coverage foundation. For years, I wore full-coverage foundation because of my persistent acne. As I finally started to clear up, I tried a lot of different
long-wear formulas, with and without primers, and still hadn't found a great one. When I started working at Big Damn Department Store, I fell in love with Estee Lauder's Doublewear Foundation. It's a lighter coverage, does not smudge even on my oily skin, and I can wear it without a primer if all I want is to even out my complexion without a matte finish. At $37 it is  expensive, but I use so little that I'll have foundation for a year. You can get free samples at the makeup counter and those last 10-20 days depending on how lightly you apply the product. My only complaint about this product is that it has no SPF, so I do have to wear a moisturizer with SPF if I want my fair-faced self to avoid sunburn. It is also the only foundation I've found that's a very good match to my skin tone, which is actually kind of hard when you are as pale as I am.
So, this summer is all about T-back and racer back tops and dresses. When I worked at Big Damned Department Store, I got
three or four customers a day looking for t-back bras. First place I took them was to the Wacoal racks, to check out the Halo Lace convertible bra. I'm saving my pennies for this bra. Firstly, it's got these neat little hooks in the back for converting it into a racer back style. Secondly, it's got fantastic support and is one of the few under-wires that doesn't poke, pinch, or dig. Thirdly, unlike a lot of lace bras, it is fully lined so it doesn't itch or wear out quickly. Lastly, it comes up to a 38G so even some of the bustier gals can wear a pretty little racer tank.
Now, it IS an average-fit bra, which means that gals like me that are full-figure might have to go up a size in the cups to get the right fit. It also a soft cup, which means if you want to wear this in a cooler environment, you might want to invest in No Peaks or nipple petals to keep the girls from being too pointy. It is also pricey — generally $48, and most of the time the coupons from Big Damn Department Store and stores like it won't work. That being said, I think Wacoal's a great brand and this is THE bra to get for summer.
Speaking of lace, my last summer must-have for this year is definitely lace and crochet details. I'm really hoping this is a trend that will travel over into fall and winter. Lace is one of the things that makes my inner girlie-girl squee with pleasure and I'm crushed that my wallet won't let me buy a closet full of lace.  It's so very versitile — you can wear it dressed up, dressed down, punked up, preppy, gothy, and in every color imaginable. Some looks I'm loving right now are: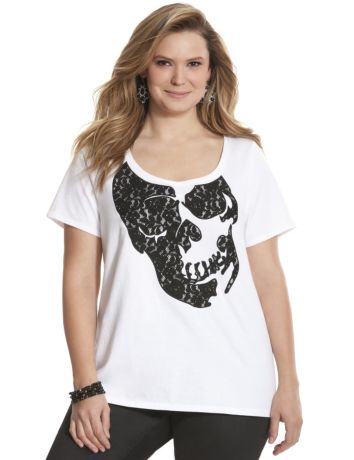 From left to right
Artisan Iced Tea Dress in Raspberry by Modcloth
Bobs From Sketcher's Dream Catcher Flat
ASOS CURVE Culottes with Lace Hem
I see at least three outfits I could make with these pieces alone and I could probably have about thirteen or fourteen outfits I could wear just based off these five pieces and what I have in my closet. The shoes alone would probably get me through summer, most of fall, and a good portion of next spring.
What's your biggest fashion find for this summer?